This script automates the copy of the Gmail email to the Jabber IM field in Apple's Address Book.
If you have tons of Gmail users in your contacts (who doesn't?), this script will save your time from boring copy & paste. Setting the Jabber field, other applications can recognize this contact as a Jabber/GTalk user (think Adium).
Free / Open Source AppleScript (Mac only)
Road Map
Step 1
You can set all the Jabber fields with a single button click. But it's recommended that you use the Confirm One by One button to visually inspect each contact that will be updated.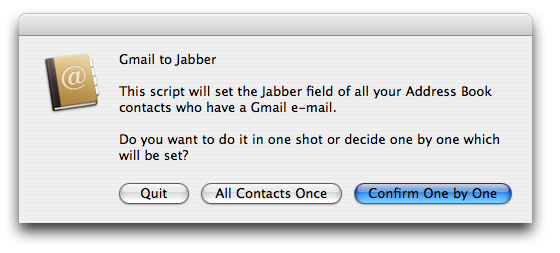 Step 2
If you want to set the Jabber IM field for this contact, just press the Set Jabber button. Otherwise press Skip to leave it intact.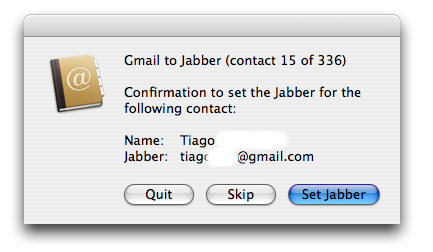 Once you're satisfied, just press the Quit button to leave Gmail to Jabber.