Txt2regex is a regular expression wizard that converts human sentences to regexes.
In a simple interactive console interface, the user answer questions and the program build the regexes for more than 20 programs, like Vim, Emacs, Perl, PHP, Python, Procmail and OpenOffice.org.
It is a Shell Script 100% written with Bash builtin commands. No compilation or extra commands are needed, just download and run.
Supported programs (23)
AWK
ed
egrep
Emacs
expect
find
gawk
grep
lex
lisp
mawk
MySQL
OpenOffice.org
Perl
PHP
Postgres
Procmail
Python
SED
Tcl
VBscript
VI
Vim
Current version
0.8 (29 September 2004) download
GitHub
https://github.com/aureliojargas/txt2regex
License
GPL v2
Screenshots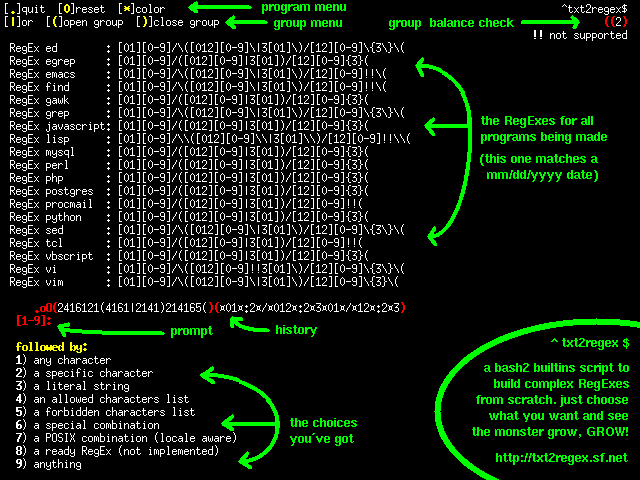 Full screenshot with nice comments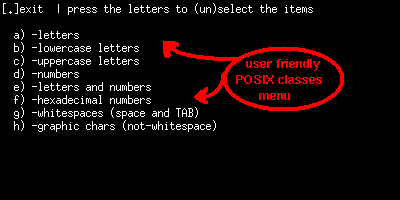 Support for POSIX classes, as [:alpha:], [:lower:] and friends

Full support for groups, including a very nice opened/closed balance control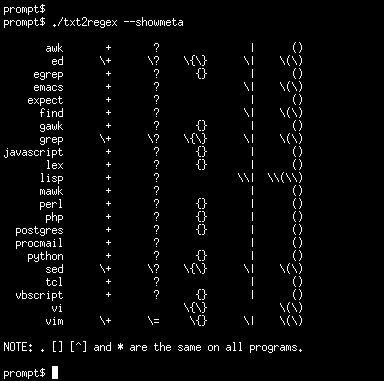 Use --showmeta command line option to get information about programs metacharacters

Use --showinfo command line option to get information about a specific program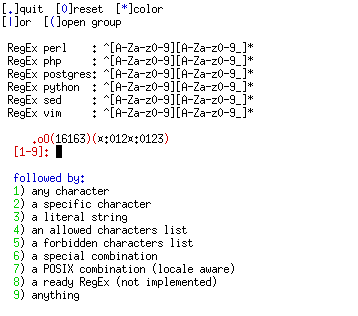 Use --whitebg to run txt2regex on a white background terminal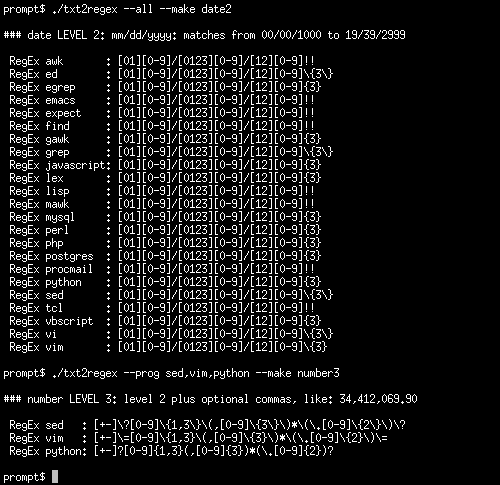 Use --make to generate ready-to-use regexes for all programs (--all) or for specific programs (--prog)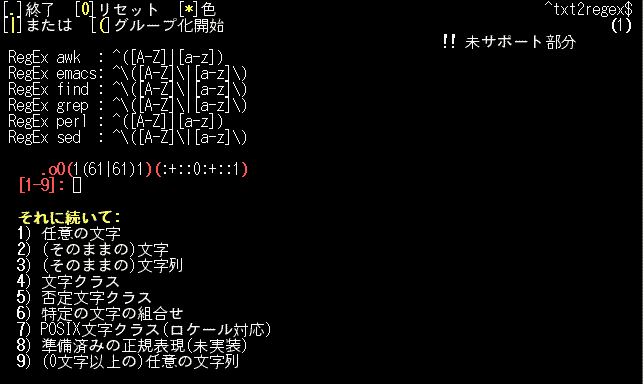 Full support for localization, see the program in japanese
Program files
| | |
| --- | --- |
| NEWS | Hot news from our favorite program on the net. |
| Changelog | The list of technical changes and enhancement between releases. |
| README | Installation procedure, current translators and mini-FAQ. |
| Manual Page | The program Man Page, with usage, options, examples and more. Read it now! There's also a Portuguese translation. |
| Museum | Previous releases of the program. Maybe not so useful, but for the records, here they are. |
Languages it was translated
UNIX/Linux distributions
Magazine/site reviews about it